Drop On Demand (DoD)
UV Inks
Physical geometry, size and shapes of printhead channels, nozzles and the drive waveform profile are different for each printhead type.  It is for these reasons that inks must be exactly tailored to operate for a specific printhead to enable reliable printing at wide operating windows.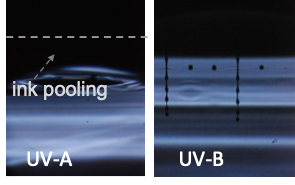 Figure  shows the jetting behaviour of two commercial UV inks having similar bulk properties. We are able to correctly predict the jetting conditions for reliable jetting without satellites. 
The Trimaster filament profiles just before and after break-up show different thinning and break-up behaviour.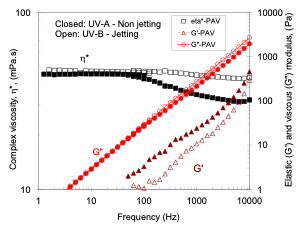 High frequency rheology shows that both inks have similar rheological behaviour at lower frequencies (up to 100 Hz).  However, they differ significantly at higher frequencies, closer the jetting conditions. 
Continuous inkjet ink (CIJ)
Identical Inks
Influence of additives
Ceramic Inks
Effects of High Frequency
In Printheads
High viscosity standard
Enamels
Gels
High Viscosity